« Tell the Scientists -- the Enemy Is Here | Main | Cheney and Firearms: It's All in the Context »
February 12, 2006
Cheney Shoots Someone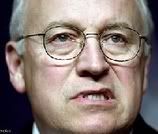 Shakes here…and I kid you not.
Vice President Dick Cheney accidentally shot and injured a man during a weekend quail hunting trip in Texas, his spokeswoman said Sunday.

Harry Whittington, 78, was "alert and doing fine" after Cheney sprayed Whittington with shotgun pellets on Saturday at the Armstrong Ranch in south Texas, said property owner Katharine Armstrong.

Armstrong said Cheney turned to shoot a bird and accidentally hit Whittington. She said Whittington was taken to Corpus Christi Memorial Hospital by ambulance.
This just in: Supreme Court Justice Antonin Scalia has reversed his previous opinion and now says he considers it an ethics violation to fraternize with the veep. He will no longer join Mr. Cheney on future hunting trips.
February 12, 2006 | Permalink
TrackBack
TrackBack URL for this entry:
https://www.typepad.com/services/trackback/6a00d8341c572d53ef00d8345a5fdd69e2
Listed below are links to weblogs that reference Cheney Shoots Someone:
» Does It Make Me A Bad Person from Minipundit
that the first thing that came to mind when I read this was "impeachment"? [Read More]
Tracked on Feb 12, 2006 10:18:48 PM
Comments
Clearly, we ought to subsidize marksmanship and gun safety training rather than ban guns. It would certainly help reduce health care costs.
Posted by: Nicholas Beaudrot | Feb 12, 2006 4:08:26 PM
I know it's all played out now, but the first thing that ran through my head was:
"call us Aaron Burr from the way we're dropping Hamiltons..."
Good to hear the gentleman is OK, obviously.
Posted by: Quarterican | Feb 12, 2006 4:17:43 PM
It's probably good that Cheney hunts in Texas rather than Gitmo. It might be hard to explain to the world an 'accident' if he got some targets in orange jump suits.
If the man dies, will Cheney skin him and cut up some game steaks - removing the slugs, of course? And mount the head for his office wall?
Posted by: JimPortandOR | Feb 12, 2006 4:25:25 PM
I wonder if Mr. Whittington will now come to identify with the plight of the Iraqi people.
Posted by: Neil the Ethical Werewolf | Feb 12, 2006 4:35:01 PM
Has Chuck Grassley closed the game-hunting donations tax loophole, or did Cheney just reduce his tax liability with this trip?
Posted by: Nicholas Beaudrot | Feb 12, 2006 4:35:33 PM
Oh he'll be fine. It was just birdshot. This whole thing is making me laugh my ass off.
Posted by: Amanda Marcotte | Feb 12, 2006 4:36:58 PM
Check out the picture that's now running with the story, which wasn't there when I originally posted. Hahaha.
Posted by: Shakespeare's Sister | Feb 12, 2006 4:40:42 PM
Am I the only one who thinks it a bit strange that the Secret Service allows anyone to be the near the VP with a loaded shotgun? Seriously, I didn't think anyone with firearms were allowed around the VP or Prez. In light of this story, though, perhaps it should be the other way around.
Posted by: Robert Lamirande | Feb 12, 2006 5:44:51 PM
Wow. Cheney's picture in that article is another one for the files.
Posted by: Sandals | Feb 12, 2006 7:25:39 PM
Can he claim executive privilege during the police interview?
Posted by: Chris R | Feb 12, 2006 8:21:47 PM
We all know what happens when you combine vacation, guns and cyborgs...
Posted by: Mr Furious | Feb 13, 2006 12:09:07 AM
my fave quote from this ordeal:


"It broke the skin," she said of the shotgun pellets. "It knocked him silly. But he was fine. He was talking. His eyes were open. It didn't get in his eyes or anything like that.
Posted by: almostinfamous | Feb 13, 2006 4:19:45 AM
The Gang Who Couldn't Shoot Straight.
Posted by: C.J.Colucci | Feb 13, 2006 6:49:30 PM
仓储笼
仓储笼
折叠式仓储笼
仓库笼
南京仓储笼
上海仓储笼
北京仓储笼
广州仓储笼
杭州仓储笼
仓储笼
仓储笼
仓库笼
仓库笼
折叠式仓储笼
折叠式仓储笼
折叠仓储笼
折叠仓储笼
仓储笼
仓库笼
折叠式仓储笼
折叠仓储笼
仓储笼
仓储笼
仓储笼
仓库笼
折叠式仓储笼
仓储笼
仓库笼
折叠式仓储笼
蝴蝶笼
储物笼
南京仓储笼
上海仓储笼
北京仓储笼
广州仓储笼
仓储笼
仓库笼
折叠式仓储笼
蝴蝶笼
储物笼
南京仓储笼
上海仓储笼
北京仓储笼
广州仓储笼
仓储笼
仓库笼
折叠式仓储笼
储物笼
上海仓储笼
南京仓储笼
北京仓储笼
广州仓储笼
仓储笼
仓库笼
折叠式仓储笼
蝴蝶笼
储物笼
南京仓储笼
上海仓储笼
北京仓储笼
广州仓储笼
仓储笼
仓库笼
折叠式仓储笼
蝴蝶笼
储物笼
南京仓储笼
上海仓储笼
北京仓储笼
广州仓储笼
仓储笼
仓库笼
折叠式仓储笼
蝴蝶笼
南京仓储笼
上海仓储笼
北京仓储笼
广州仓储笼
Posted by: judy | Oct 1, 2007 5:04:26 AM
The comments to this entry are closed.